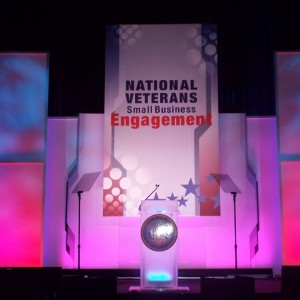 The Department of Veterans Affairs (VA), in collaboration with other federal agencies and partners, hosted the fourth annual National Veterans Small Business Engagement (NVSBE), which took place from December 9 to 11, 2014, at the Georgia World Congress Center in Atlanta, Georgia.
The engagement is a large event, during which NVSBE connects veteran-owned small businesses (VOSBs) with the Department of Veterans Affairs (VA), other federal agencies and commercial procurement decision-makers.
The conference allows veteran owned businesses to network with each other, as well as, with prime contractors in the defense, logistics, and communication industries. The event attracted around 3,000 attendees, offering them the chance to learn best practices from federal and commercial procurement decision-makers. More than 400 exhibitors and 25 government agencies were on hand to foster new relationships with VOSBs.
"Civil Logistics is proud to be a part of the community of businesses whose members served in the military and now are contributing to our company's mission. 2014 was a defining year for us were we established our presence, increased our roster or technical and professional staff, and increased our core competencies", states Bill Slove, CEO of the company.
Civil Logistics is a service disabled veteran owned small business providing professional and technical infrastructure support to government and private commercial business in areas of insurance, disaster response and recovery, environmental, water resources and energy.
Civil Logistics- The Human Impact in Logistics