Civil Logistics recently returned from the 2014 Association of Unmanned Vehicle Systems International exposition held in Orlando Florida.  The show is the largest of its kind, highlighting the diverse offerings of companies involved in government and military, commercial, and international agencies, as well as, the newest and improved technologies, legislative and political matters.  The exhibition gives companies an opportunity to showcase their products and technologies to a wide audience, with over 600 exhibitors filling the 250,000 square foot hall.   "Our goal there was to not only gain broad exposure within the industry and to learn more about the current UAV climate but to also support and build on the relationship we started with Oklahoma State University and the unmanned flying orb they have developed, states Bill Slove, CEO of Civil Logistics.   Since a great deal of what we do is disaster response and recovery, we're looking for ways to make that process more efficient and effective so we can protect lives and property when disaster strikes.  This orb is the best platform out there which can be configured with infrared, audio, visual, and even the ability to deliver lifesaving supplies in an emergency or humanitarian situation.  Its ability to hover, move on all axis's easily is far superior to fixed wing or even quad copter craft and will not only give us the best situational intelligence on location but will actually be able to save lives", adds CEO Slove.
Pictured with CEO of Civil Logistics, Bill Slove is Ben Loh, Oklahoma State University UAS design engineer.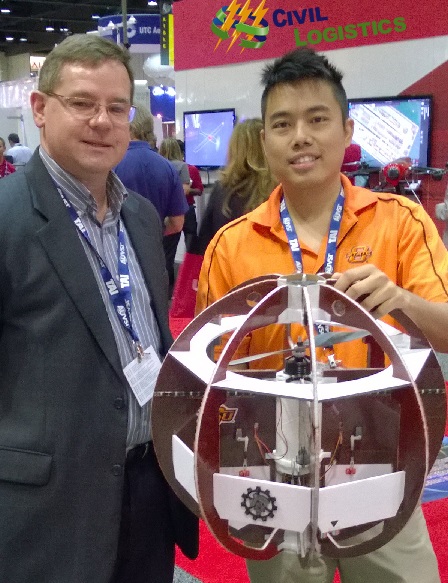 Civil Logistics LLC is a veteran owned small business providing infrastructure support for logistics, water resources, engineering, insurance, environmental and scientific disciplines.  We also provide disaster assistance response nationally and cross mission representation internationally.